Healings and Readings
Maxine is an IPHM Accredited Reiki & Crystal Healing practitioner (both at Master/Teacher level), a Rahanni Practitioner and an intuitive Tarot Reader who's practice is based at The Mews in Frinton-On-Sea, Essex.
Maxine also teaches Crystal Healing and Reiki – her courses have been awarded an international accreditation by the Board of the International Practitioners of Holistic Medicine where you will find her listing. Courses are currently based at The Mews in Frinton-on-Sea, Essex. Please click here for further details.
Testimonials:
"Maxine was recommended to me and my only regret is that I didn't make an appointment sooner. I have no hesitation in recommending Maxine and if you are thinking about seeing her please go. You will be glad you did. Maxine is kind, compassionate and a very warm human being. You feel at ease as soon as you walk in. The Reiki treatment I received was amazing. It released a lot of things for me and I continued feeling the effects for some time after. I also had a health issue which I went on to address with a good outcome. I will be going to see Maxine again very soon." Anita Cadogan
"I was put in touch with Maxine through a friend as I wanted to have some Reiki done. Upon meeting Maxine I was happy to see she was a lovely warm friendly person and instantly felt comfortable with her, she was very professional. The Reiki I had was very relaxing and she ensured I felt warm enough and comfortable at all times. I would highly recommend Maxine to anyone and look forward to receiving more Reiki in the future. I have also had readings from Maxine, all of which seem very accurate. I enjoy being in Maxines presence as I find her very warm and calming, I believe this is very important when receiving Reiki. Thanks again Maxine!" Cherelle Hilimi – Chingford
"I consulted Maxine for Reiki Healing on my shoulder. Her approach was holistic and the results immediate. In a warm and relaxing environment Maxine made me feel comfortable while she quietly completed the treatment lifting my mood and relieving the pain in my shoulder. The results were enduring, with one follow up treatment. I have no hesitation in recommending this insightful and warm practitioner" Ruth Dowden, Walthamstow
---
Clearing Negative Energy
In Addition to this Maxine specialises in clearing negative energy from homes (offices and work spaces).
What does this mean…?
If you feel uncomfortable in your home (or place of business), the atmosphere feels heavy possibly dense or you find you are having constant bickering, rows or a run of bad luck, an idea is to have a clearing as it unblocks areas of poor energy flow and raises the vibration of the home (space) helping to reinstate or create a comfortable environment where you can relax and exhale.
In some cases you may feel an unwanted spiritual presence. This again is an area that Maxine is experienced in and can help you with.
---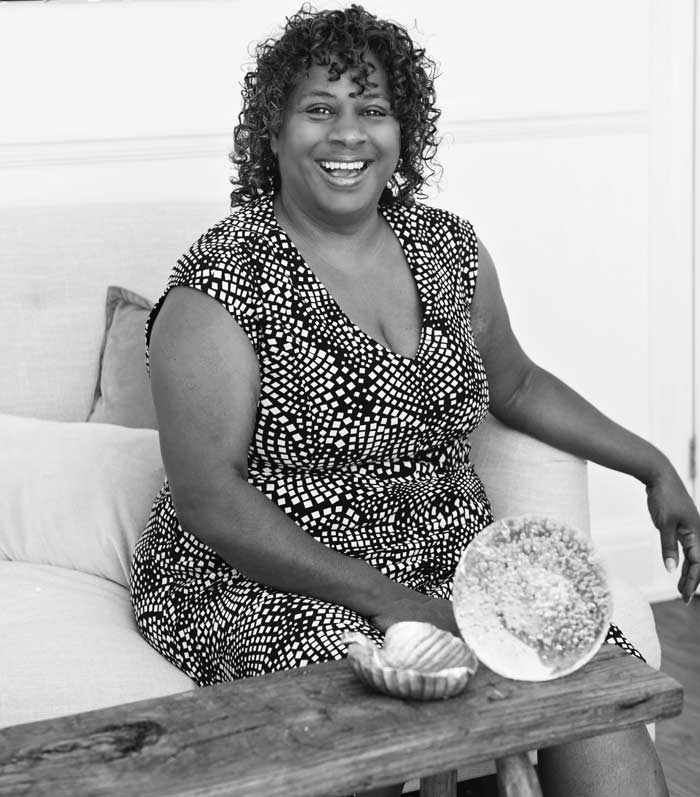 More about Maxine
At the centre of Maxine's life is her Spiritual belief. She keeps herself in tune by regularly attending various Spiritual workshops in London and the surrounding areas.
Maxine grew up in Camden, moving to Walthamstow in her early 20's where she settled down and had children. Maxine now resides in Frinton-On-Sea, Essex. You will often find her enjoying walks alongs it's beautiful beaches where she replenishes her energies.
Prior to working full-time as a Reiki Practitioner, Crystal Healer and Tarot Reader, Maxine spent 11 years working in London's top city law firms as a Legal PA so fully understands the stresses and woes that corporate life brings (not to mention the chore of the daily commute!).
---
Maxine's Practice
Maxine has a practice in Frinton-on-Sea. To book an appointment with her please call direct on: 07956 213 203 so she can have a brief chat with you to tailor your treatment for your specific needs.
Disclaimer
Please note: Whilst Maxines' work with Reiki and Crystal healing fall under the umbrella of complimentary therapy and have been of benefit to herself and her clients, treatments are not intended to be a substitute for diagnosis of illness/ailments or prescription medicine by a doctor or healthcare professional and do not imply a guarantee of effect. Reiki Healing and Crystal Healing may offer a treatment which is supportive of your healing, they do not offer a direct cure to physical ailments as they work at the subtle vibrational energy level. Please always check with your doctor or other healthcare professional in the case of sickness/illness.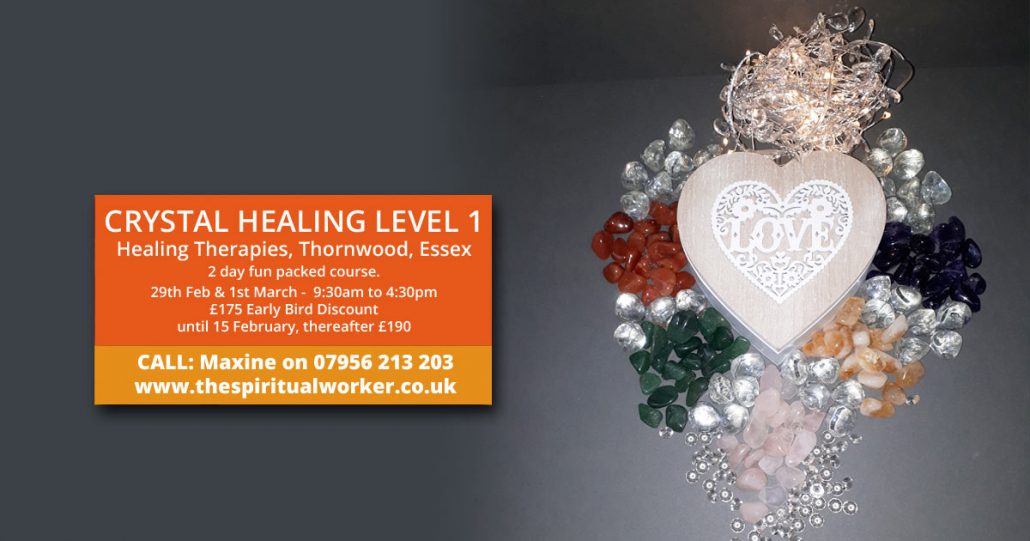 https://www.thespiritualworker.co.uk/wp-content/uploads/2020/02/CrystalHealingTherapiesEppingFB20.jpg
630
1200
adminEbobss
http://www.thespiritualworker.co.uk/wp-content/uploads/2022/02/The-Spiritual-Worker-watermark2.png
adminEbobss
2020-02-07 10:14:22
2020-02-07 10:14:22
Crystal Healing Level 1 - Saturday 29 Feb & Sunday 1 March 2020